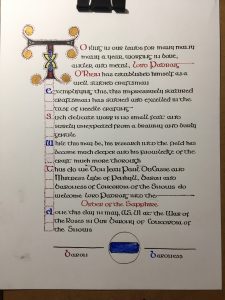 Most recipants I get to know after they've received their scrolls. This is one of the few, where not only did I know him before he got the scroll, but got to do the whole thing myself. If I could change anything it would be to do it larger and find a better way to do the little red dots. Aside from that though, I'm happy to have had the chance to make this for him. (Now if only I'd been tagged for his wife's Sapphire as well)
Materials: Bristol smooth finish paper, DeAtramentis Document Black ink, Brause #5 nib, and a Brause (unknown) pointed nib, and watercolor paints.
Sources: Cotton MS Vespasian Psalter for the layout and design, and The Book of Kells for the adapted Insular Half-Uncial script.
Words:
Progress Photos: