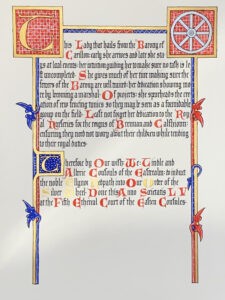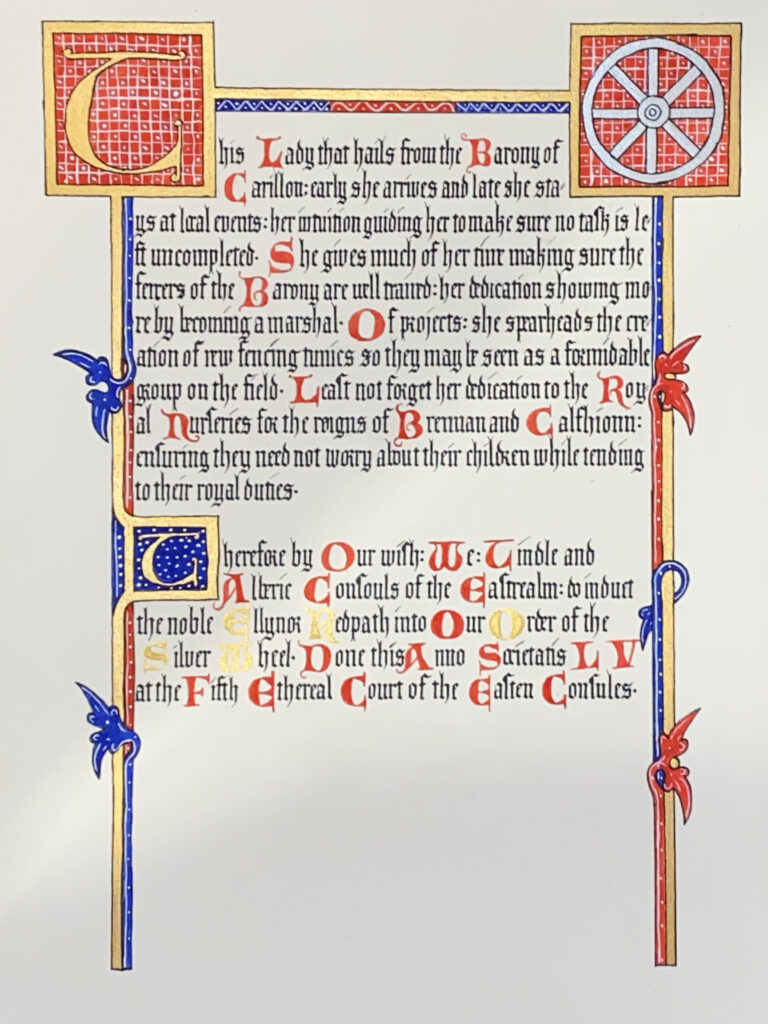 2020 has been a trying year. The stress of all that"s been going on though the year has taken its toll on my drive to art. The few assignments I"ve received have helped considerably. This one was a rough one. My brain kept flipping between complex and simple. In the end, a simple take on bar & ivy won out. I was able to find an image from a 15th c manuscript to help give me ideas.
Words:
This Lady that hails from the Barony of Carillon, early she arrives and late she stays at local events, her intuition guiding her to make sure no task is left uncompleted. She gives much of her time making sure the fencers of the Barony are well trained, her dedication showing more by becoming a marshal. Of projects, she spearheads the creation of new fencing tunics so they may be seen as a formidable group on the field. Least not forget her dedication to the Royal Nurseries for the reigns of Brennan and Calflfhionn, ensuring they need not worry about their children while tending to royal duties.
Therefore, by Our wish We, Tindle and Alberic Consouls of the Eastrealm, do induct the noble Ellynor Redpath into Our Order of the Silver Wheel. Done this Anno Societatis LV, at the Fifth Ethereal Court of the Eastern Consules.
Tools:
Hero 1mm Nib
Pigma Micron 01
Winsor & Newton Gouache, Gold and Silver
Daler Rowney Gouache