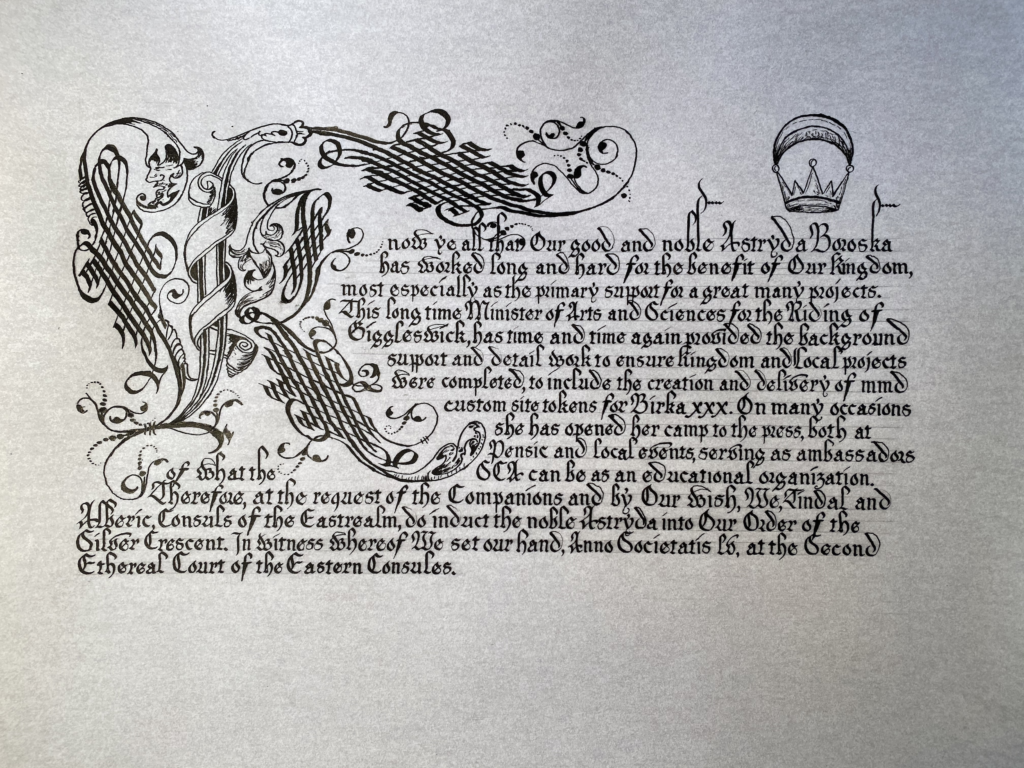 Took on this assignment and was at a loss for what to do for illumination. I"d did some searching through the EK Wiki and browsed through her husband"s blog but had a really hard time coming up with ideas. So I set upon creating the words to see if that would give me some inspiration, but to no avail. I decided to take a peek down the Cadel trail again.
Cadels are a mind trip. They"re very complicated and yet very simple all at the same time. I try to tell myself that "it"s just a bunch of lines", which is true but the layout is a little lot more complicated than that. So I searched and searched and find a Cadel K that I thought would be perfect! Practice was absolutely necessary for this though. I decided to grab my light table and trace it. This worked out better than I"d imagined.
Yes, I sacrificed a piece of Perg for this because I wanted to make sure I was comfortable with the ink and how it was going to handle on the medium. I tried both my homemade walnut ink and De Atramentis Document Black. I ended up going with the later as it went on smoother and it was easier to differentiate between what I"d done and what I hadn"t.
Some line studying later on an enlarged print out and I was ready to roll.
I"m really jazzed with out this turned out. Making use of the light table and tracing the Cadel instead of trying to freehand it was so much easier than the last time, where I had eyeballed it and did it freehand. Don"t get me wrong, it turned out really well, but the stress of it was so huge.
Words:
Know ye all that Our good and noble Astryda Boroska has worked long and hard for the benefit of Our Kingdom, most especially as the primary support for a great many projects. This long time Minister of the Arts and Sciences for the Riding of Giggleswick, has time and time again provided the background support and detail work to ensure Kingdom and Local projects were completed, to include the creation and delivery of 2,500(MMD) custom site tokens for Birka 30(XXX). On many occasions she has opened her camp to the press, both at Pennsic, and at local events, serving as ambassadors of what the SCA can be as an educational organization. Therefore, at the request of the Companions and by Our wish, We, Tindal and Alberic Consuls of the Eastrealm, do induct the noble Astryda into Our Order of the Silver Crescent. In witness whereof, We set Our hand Anno Societatis 55(LV), at the Second Ethereal Court of the Eastern Consules
Materials:
De Atramentis Document Black ink
White perg
Light table
Hero 1mm nib
Unknown pointed nib