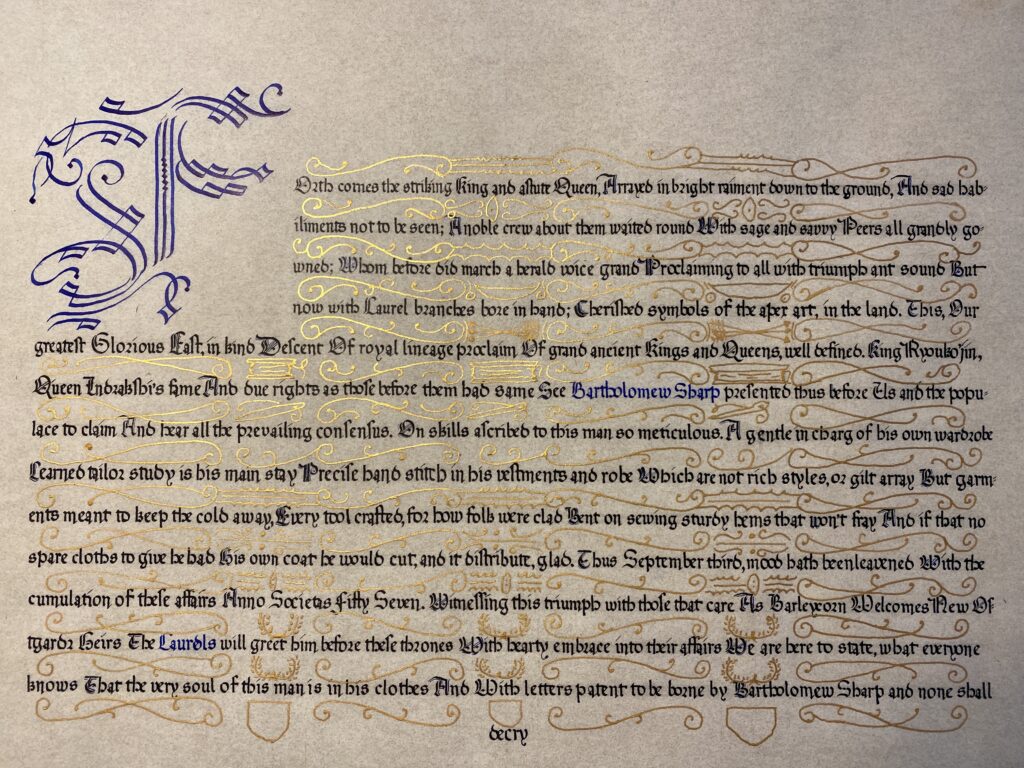 July 20th, this is my first Peerage Scroll assignment in the East Kingdom! Tagged for the assignment, words of encouragement
...
While I"m happy to do another scroll for Matija, this one came with mixed emotions. Not towards him, but to
...
Holy gold on a Silver Wheel!  By the time the pieces all came together, I had roughly 3 and a
...
This was an interesting scroll to work on.  Baroness Lillian atte Valeye did an awesome job on the Illumination.  The
...
It was nice to have a scroll to do that wasn't at a break-neck pace.  I picked up the scroll
...
My first Baronial scroll, again done in Rotunda.  JP and Lylie finally got me to do work for them, to
...
This was my first collaboration work.  I had the pleasure of working with Fiona O'Maille, a Laurel who'm I'm apprenticed
...
The second scroll of the two done for a friend.  Rotunda Script and Walnut Ink on a provided scroll blank.
...
Rotunda Script and Noodler's X-Feather ink.  This was one of two scrolls going out to a friend before she moved
...
This was my second Combat Scroll.  The Queen had been trying to track down Briony for a while in order
...