At the beginning of the 2020 lockdowns in the Eastkingdom, our Signet and a few others came up with an idea for an auction to help fund the making of masks. The Scribes of the east, Tyger Scribes as we would be dubbed, were light on projects and were in need of a pick-me-up and tasks to work on in these trying times.
A questionnaire was created and I offered to team up as an option. As luck would have it I was teamed up with Emma of Bergental. I had worked with before on another scroll and it turned out fantastic.
Auction Link: Tyger Scribes in Trying Times
Scroll Text:
Ingredients:
2 ½ c ground sweet death;
¾ c powdered bean from the heathen tree;
¼ tsp crystals from the sea;
2 givings of a common fowl;
½ tsp extract of the little pod;
1 c creamed drops of bean from the heathen tree;
½ c well seared flays from the forbidden animal;
1 tbs beaten elixir for the calf.

Process: Fuel the fires of hell to a temperature suitable for double death. Combine ground sweet death, powdered bean from the heathen tree, and crystals from the sea. Add the givings of a common fowl, extract from the little pod, creamed drops from the bean of the heathen tree, and well seared flays of the forbidden animal. When all of the pieces are beaten into submission, leave to be. On sheets of steel coated with scribe's bane and well beaten elixir for the calf, divide into nibble sizes and distribute thus. Torture by flame, then frost.

Gluttonous Gluten-less Double Death
Recipe:
Ingredients:
1 tbs. butter
2 1/2 c. powdered sugar
3/4 c. unsweetened cocoa powder
1/4 tsp. sea salt
2 cold large eggs
1/2 tsp. pure vanilla extract
1 c. milk-chocolate chips
½ c. Crisp bacon, crumbled.

Directions:
Preheat oven to 350° and line two baking sheets with parchment paper and very lightly grease with butter.

In a large bowl, combine powdered sugar, cocoa powder, and salt.
Stir in eggs and vanilla then add milk-chocolate chips. For shinier cookies, rest dough at room temperature for 20 minutes.

Scoop tablespoon-size mounds onto prepared baking sheets and bake until set, 10 to 12 minutes.

Freeze for about 30 minutes on the baking sheet then carefully transfer cookies to a cooling rack with a spatula to cool completely.
Images: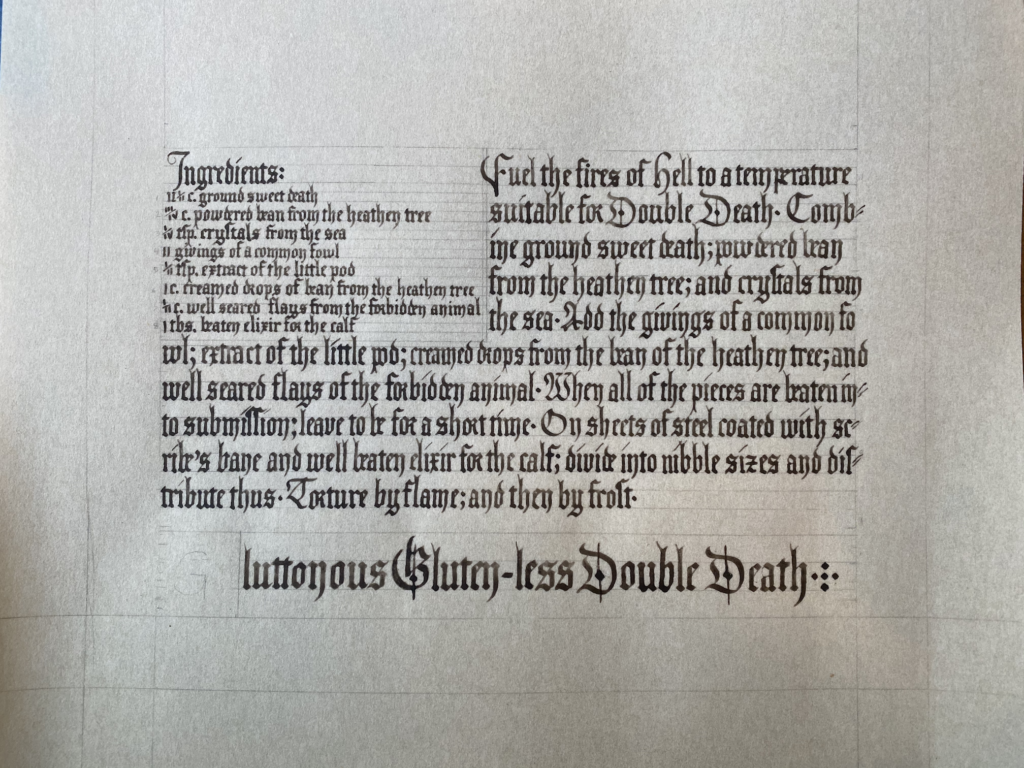 Posting on the auction site:
An illuminated recipe, not quite completed, that we hear will be EPIC.
Do you dare to bid on this, sight unseen? Have you *met* these scribes?
Closing bid was $77, I"m honored.