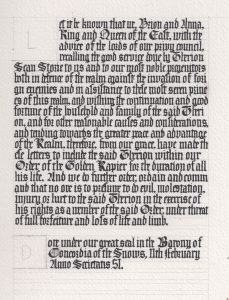 This was an interesting one on the back end.  I received word from my wife that our Baron had decided I was going to do the calligraphy for this one.  About a week later he messages me on Facebook asking if I had time to get it done.  Lady Emma Makilmone of Bergental was already in chat asking for themes for the illumination.  I accepted.
About a week later words were provided and then found out that I was expected to do the calligraphy first!  This is the second time I've had this privilege, but the first time I had to carve out the space I needed for the calligraphy.  The previous time the design was already penciled in.
Emma and I talked and came up with a plan for illumination and set my deadline for calligraphy, standard two weeks.  I set my pen to the draft paper and was up till midnight many a night the first week figuring out rough dimensions and making sure everything would fit.  I gave myself a few days to recuperate, then started the final copy.  Had the final done in four days, and shipped with a few days to spare.
Materials:
Nib was a Leonardt Tape 1mm.
The ink is DeAtramentis Document Black, a very nice archival ink for the script.
The paper is Archers Cold press.  A valuable lesson was learned here!  Cold-press does NOT have the same texture as Hot press!  Their Cold press has a heavy texture to it, and a 1mm nib almost catches on everything.  A smaller nib would have been a nightmare.
I had a fun time trying to research proper illumination for late 15th Century Scottish documents and/or books.  Turns out that since the English took over in the 16th Century, they'd been (forced into?) using English styles for just about everything.  So Textura Quadrata and the illumination are more English than what would expect from a Scotsman, but quite period appropriate.
The words for the curious:
Let it be known that we, Brion and Anna, King and Queen of the East, with the advice of the lords of our privy council, recalling the good service done by Therion Sean Storie to us and to our most noble progenitors both in defence of the realm against the invasion of foreign enemies and in assistance to these most serene princes of this realm, and wishing the continuation and good fortune of the household and family of the said Therion, and for other reasonable causes and considerations, and tending towards the greater peace and advantage of the Realm, therefore, from our grace, have made these letters to include the said Therion within our Order of the Golden Rapier for the duration of all his life.  And we do further order, ordain and command that no one is to presume to do evil, molestation, injury or hurt to the said Therion in the exercise of his rights as a member of the said Order, under threat of full forfeiture and loss of life and limb.  Done under our great seal in the Barony of Concordia of the Snows, 11th February Anno Societatis 51.

Calligraphy:   Lord Faolán an Sccreccain

Illumination:  Lady Emma Makilmone

Words:
Mistress Alys Mackyntoich & Master Jean-Paul Ducasse (Based on Ratification of the remission granted to Sir Thomas Kerr of Ferniehirst, knight)