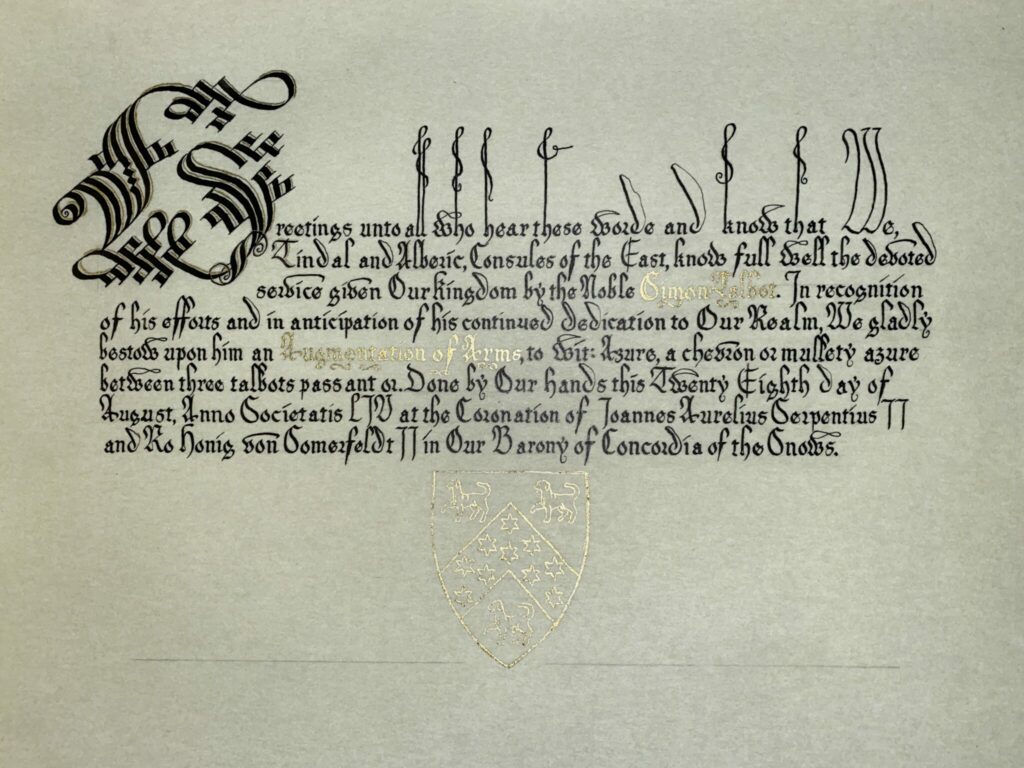 And with that, another Webminister has received a scroll made by me, this time Simon Talbot. Simon was honored along with the rest of the Webministry for the services provided during the "Weyrd Tymes" of 2020.
I took this opportunity to go back to Cadels. For as stressful as they are to try and map, I'm more comfortable with them than painting and drawing for more typical illumination. The cadels also work really well for showing off my calligraphy. There are also the flourishes that help access the piece. I think this is a direction I am going to pursue a while. I mean to unlock the Cadel.
Words
Greetings unto all who hear these words and know that We, Tindal & Alberic, Consules of the East, know full well the devoted service given Our Kingdom by the Noble Simon Talbot. In recognition of his efforts and in anticipation of his continued dedication to Our Realm, We gladly bestow upon him an Augmentation of Arms, to wit: Azure, a chevron or mullety azure between three talbots passant or. Done by Our hands this 28th day of August, Anno Societatis LVI at the Coronation of Ioannes Aurelius Serpentius II and Ro Honig von Sommerfeldt II in Our Barony of Concordia of the Snows.
Materials
Pergamentata
De Atramentis Document Black ink
Windsor & Newton Gold ink