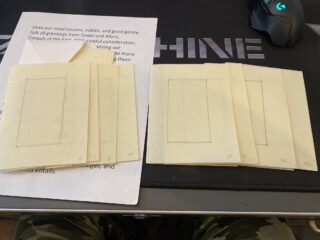 Unfortunately, I forgot to get pictures on my work on this scroll. It's one of the most unique I've done yet. I was asked by my Laurel to do the calligraphy on my Apprentice Sibling's Maunch scroll. Because Isable specializes in book making, we made her scroll in the shape of a book.
Navigating the pages was interesting and it strongly impacted the speed at which I could work because we were doing both sides of the pages.
Words

Unto our royal cousins, nobles, and good gentle folk all greetings from Tindel and Albric, Consuls of the East. With careful consideration, consultation, and advisement among our Order, we have taken the measure of the many skills of Isabel del Okes. Principle among them are her abilities with bookbinding. The numerous binding styles, and stitch work, boards, end leafs and tooling she has employed after years of deliberate and extensive research, and much practice have produced many beautiful and well made books, and delighted their recipients. She is skilled with words, and written poems of love, and hope, glory and joy. She has spent immeasurable time with wire and beads, making largess for the kingdom, and many are adorned with her creations. We hereby recognize, laud and extol many skills and talent of Isabel, and count her amongst the members of Our esteemed Order of the Maunche, with all rights, privileges, and responsibilities this entails.
Materials
Pergamentata
De Atramentis Document Black Ink
Bause 1mm nib