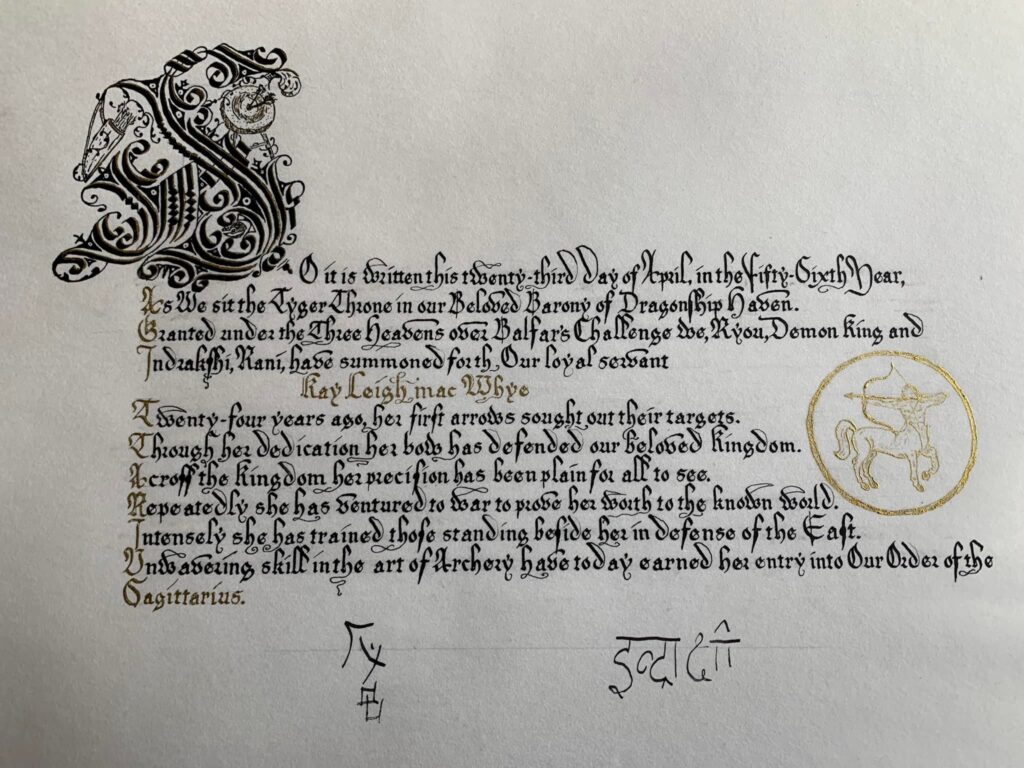 This was a fun one. Kay Leigh is another EK Scribe that I've known from the start of my scribal adventures in the SCA. The reply to the assignment was nothing less than "HELLS YES!"
Reading through the write-up, I found myself slightly stuck. Her husband, Ryan Mac Whyte, had done the submission and had included a lot of strong, good points that all deserved to be included. So I went to the source, and I'm glad that I did. We talked a little about the style and what I was thinking of doing. He mentioned that they didn't have any scrolls in the Acrostic style, where the first letter of each line spells out a word or phrase. By noon the next day, he'd finalized the words and sent them to me.

Next was coming up with a Cadel to use for the first letter. I found a really nice S on Pinterest, with no other source information, but with a few changes, it would be perfect. For the script, I decided on Littera Bastarda as it'd go nicely with the Cadel and make good use of the whitespace.
The best part was making it to Balfar's Challenge and seeing her reactions in Court. She was totally not expecting any kind of award recognition at this stage in her SCA career. Rightfully soo, her accolades on her EK Wiki are impressive! There was confusion, there were tears, there was joy. After court, she chased me down to A) thank me and B) Express her surprise that I was able to not let on that I was working on a scroll for her while they were hanging out in our hotel room after Coronation.
Good times!
Words:
So it is written this twenty-third day of April, in the Fifty-Sixth Year,
As We sit the Tyger Throne in Our Beloved Barony of Dragonship Haven.
Granted under Three Heavens over Balfar's Challenge We, Ryou, Demon King and
Indrakshi Rani, have summoned forth Our loyal servant Kay Leigh Mac Whyte
Twenty-four years ago, her first arrows sought out their targets.
Through her dedication her bow has defended Our Beloved Kingdom.
Across the Kingdom her precision has been plain for all to see.
Repeatedly, she has ventured to War to prove her worth to the Known World.
Intensely she has trained those standing beside her in defense of the East.
Unwavering skill in the art of Archery have today earned her entry into the Order of the
Sagittarius.
DeAtramentis Document Black ink on Vegitable Perg paper, with Windsor & Newton gold ink for highlights.