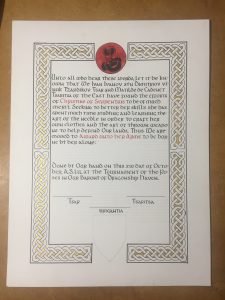 Two weeks before the due date, I woke up to a request from Dutchess Etheldreda asking me if I was able to take on this scroll. Without a second though, I said yes.
Viking persona, AoA for learning to sew and taking on thrown weapons.
Not much to work with, but the challenge was accepted. I looked through my blanks and found that I didn't really have anything that seemed Viking.
Challenge bar raised.
Tuesday night I started on a blank. Loads of ideas going through my head, but most beyond my present skill and timeline. I settled on a knot work boarder. Made room for the house device above and arms below. Completed the pencil and got a third of the inking done. Wednesday night I finished inking only to find that is caused a few smudges and a drop from the ruling pen. Cleanup would have to wait, it was time for bed.
Thursday was a day for wordsmithing while attending my daughter's gymnastics lesson.
Friday and Sunday were kind of a wash due to an events we needed to attend, where a writ I did was given out.
Monday and Tuesday evenings were dedicated to knocking out the calligraphy, cleanup, and applying the gold paint.
Wednesday, things got burnished and small bits of additional cleanup.
Thursday my wife and daughter came down down colds, so in a pinch, Anne was able to help us with travel arrangements.
Words:
Unto all who hear these words, let it be known that We Ivan Ivanov syn Dimitriov vynuk Tzardikov Tsar and Matilde de Cadenet Tsaritsa of the East have found the efforts of Christine of Serpentius to be of much merit. Seeking to better her skills she has spent much time studying and learning the art of the needle in order to craft her own clothes and the art of thrown weapons to help defend our lands.
Thus We are moved to Award unto her Arms to be borne by her alone:

(sssssspace for armsssssssss)

Done by our hand on this fourteenth day of October, Anno Societatis 52, at the Tournament of the Roses in Our Barony of Dragonship Haven
Materials:
Bristol Smooth finish paper
DeAtramentis Document Inks, Black and Red
Unknown, burnish-able, gold paint. (shell gold?)
Ruling Pen for the borders
Glass dip pen, for the consistent line widths on the knot work
Notes:
After talking with Heather Rose, I should have double checked about including the house logo.  The border itself is very modern, but "works".  I did remember to put borders around the knot work, for which the ruling pen was a blessing.
With some help, I was able to take a request with an interrupted timeline, complete it and get it on it's way in time for the event.  That's a good feeling.