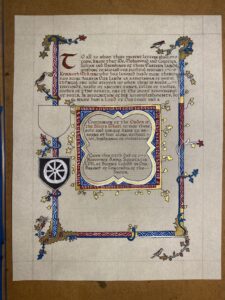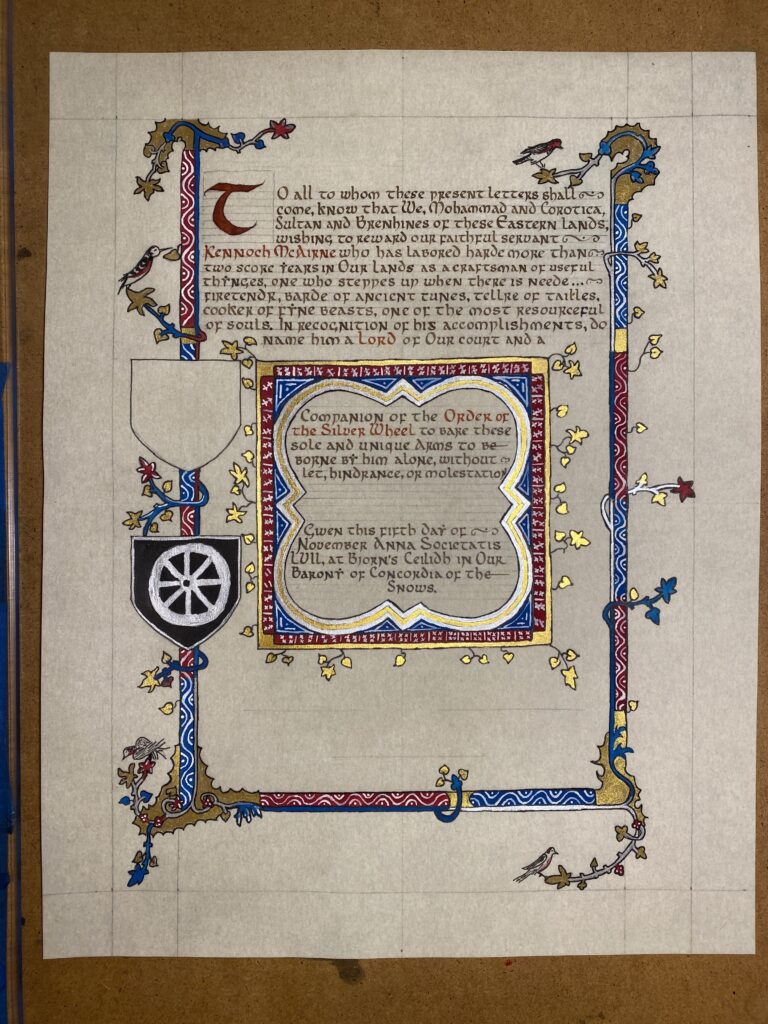 Every now and then, a scroll ends up having an adventure before it's given out. This one was no exception. As we were packing up the Sunday of Hunters Moon (Oct 9th 2022), Eikaterine and Kennoch's approached Maria and I with a plan to make this award happen. Kennoch doesn't travel outside the local region and never attends Royal Court. So, a plan was hatched to get him to Ceilidh where We would give him his Silver Wheel on behalf of their Majusties.
Got home, and started looking through the scroll blanks I had available. On the Tues the 18th of Oct, I got my official notice from the EK Signet,
Hope you are doing well. This is a weird assignment I am told you were already in the know about where TRM were hoping you could give this out locally (and do the scroll). If this is not the case scroll-wise, please let me know ASAP. There was also a request to have the scroll (done or not) brought up to Crown so it could be signed if possible.
I know this is a bit of short notice, so please let me know if this is not doable or if we need a bit of creative problem solving for this.
Wed the 19th, Eikat reached out to me to see if I'd heard anything. Gaver her an update, showered the blank, and started brainstorming what to do about words. Nervous yet cheerful she volunteered to give it a try and by Sunday I had words!
Monday the scroll was lined and the first set of lines penned, and by Wednesday the 26th the calligraphy was done.
Originally the plan was to award the scroll then take it Birka for Royal signatures, but as I had completed my part ahead of time, Anne De Basillon was able to take it to Crown Tourney to get the signatures!
Words:
To all to whom these present letters shall come, know that We, Mohammad and Corotica, Sultan and Brenhines of these Eastern Lands, wishing to reward our faithful servant, Kennoch McAirne, who has labored harde more than two score years in Our Lands as a craftsman of useful thynges, one who steppes up when there is neede… firetendr, barde of ancient tunes, tellre of tailles, cooker of fyne beasts, one of the most resourceful of souls. In recognition of his accomplishments, do name him a Lord of Our court and a Companion of the Order of the Silver Wheel to bare these sole and unique Arms to be borne by him alone, without let, hindrance, or molestation:

Given this fifth day of November, Anno Societatis LVII, at Bjorn's Ceilidh in Our Barony of Concordia of the Snows
Yes, I failed to take pictures before sending it off.