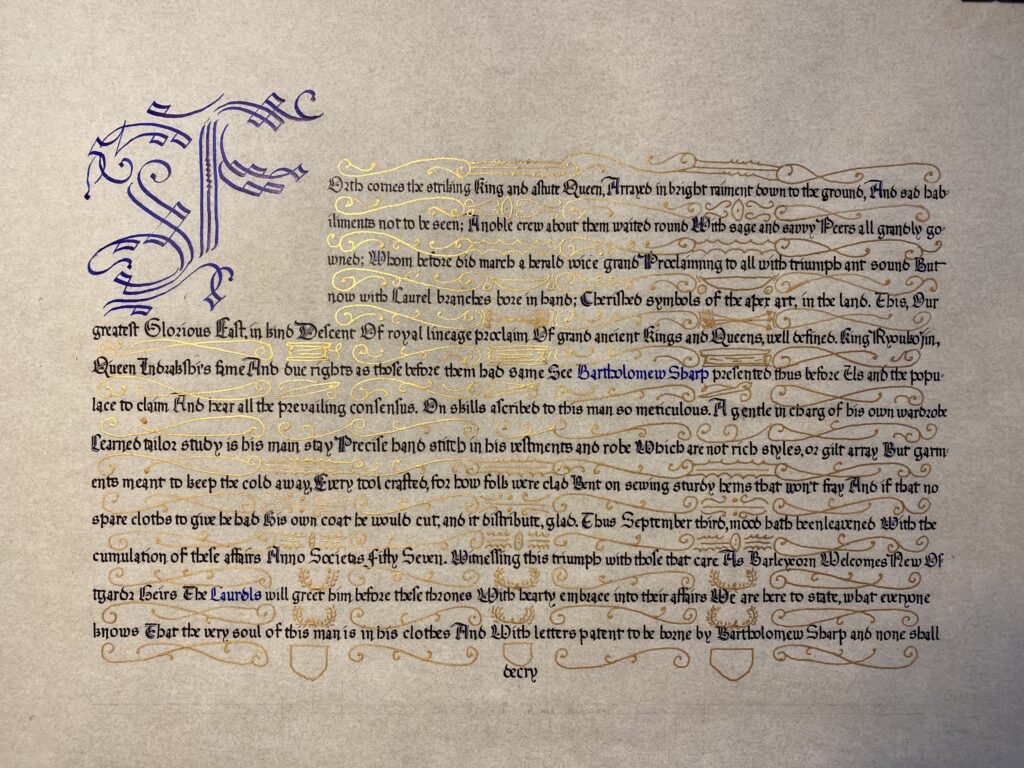 July 20th, this is my first Peerage Scroll assignment in the East Kingdom! Tagged for the assignment, words of encouragement received from , EK Signet when I expressed concern over the assignment.
I reached out to Aislinn, to see if she would be willing to do words for me. She said yes and started researching Elizabethan Iambic Pentameter, because it had to be done!
Inspiration:
Now, I don't consider myself an illuminator, and I've recently discovered that I can pretty decently copy Cadels. So I'd been mulling around ideas as to what to do with this. Size of cadel, the script to follow, texture or secretary, etc. August 1 a page rolled across my facebook feed. Even if I don't do the still life, I knew I could pull off the text and swirls.
Upon seeing the Cadel and the script, I knew it was something I could use. I found the scanned manuscript provided by the Getty Museum. Got the first capital from Aislinn, searched the manuscript, but there wasn't an F to be found. There was a page however, filled with various Cadels from the same artist. With the help of my Laurel, I was able to piece together an F. Using the top right of the E and the left side of the I, I was able to piece together a grand F worthy of its location on the scroll.
It took about a weeks worth of practice. Finding the tweaks to make. Figuring out roughly where to begin each stroke. In the end I was able to freehand the F in place.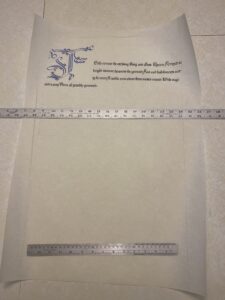 Once the F was in place I had to figure out what size nib for the text, some 280+ words. The first attempt, I chose the 1 ½ mm nib, this proved to be WAY too big. I got half way through the first block of text and had taken up too much space.
Second attempt ended up becoming the final. Used the 1 mm nib and while it was a little tight for the gold flourishes, it worked out quite well. Speaking of words, Aislinn did a wonderful job composing them in Iambic Pentameter, which she learned just for this!
Forth comes the striking King and astute Queen,
Arrayed in bright raiment down to the ground,
And sad habiliments not to be seen;
A noble crew about them waited round
With sage and savvy Peers all grandly gowned;
Whom before did march a herald voice grand
Proclaiming to all with triumphant sound
But now with Laurel branches bore in hand;
Cherished symbols of the apex art, in the land.

This, Our greatest Glorious East, in kind
Descent Of royal lineage proclaim
Of grand ancient Kings and Queens, well defined.
King Ryouko'jin, Queen Indrakshi's fame
And due rights as those before them had same
See Bartholomew Sharp presented thus
before Us and the populace to claim
And hear all the prevailing consensus.
On skills ascribed to this man so meticulous
A gentle in charge of his own wardrobe
Learned tailor study is his main stay
Precise hand stitch in his vestments and robe
Which are not rich styles, or gilt array
But garments meant to keep the cold away,
Every tool crafted, for how folk were clad
Bent on sewing sturdy hems that
won't fray
And if that no spare cloths to give he had,
His own coat he would cut, and it distribute, glad.

Thus September third, mood hath been leavened
With the cumulation of these affairs
Anno Societas Fifty Seven.
Witnessing this triumph with those that care
As Barleycorn Welcomes New Ostgardr Heirs
The Laurels will greet him before these thrones
With hearty embrace into their affairs
We are here to state, what everyone knows
That the very soul of this man is in his clothes

And With letters patent to be borne by
Bartholomew Sharp and none shall decry
*****SPACE FOR ARMS *****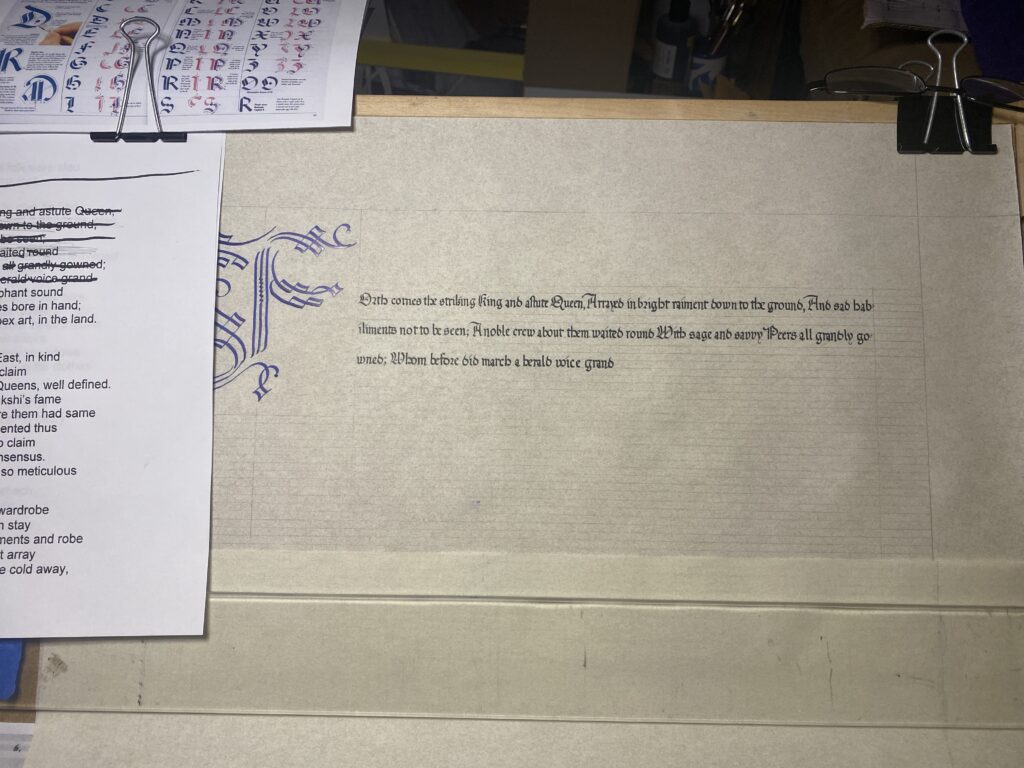 What I'd change if I could:
Not much, actually. The only thing I wish I had more of was time. The flourishes would have been done over a few days. More graceful details added. Other than that, I'm really happy with the responses I've gotten from my first peerage scroll.