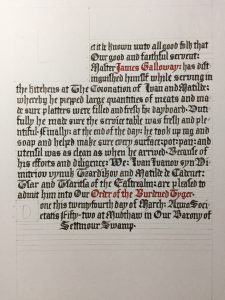 I was pretty jazzed when I was approached for this one. James "Hawk", has been a good friend of the family for a while. I was a little surprised that Hawk didn't already have this award.
Reaching out to the point of contact for additional information was a blast. He spun a great tale of how Hawk came to the site, stormed the kitchen, got things underway, and set the kitchen right on the way out. Okay, so maybe that was a bit of an exageration, but he was really appreciative of all fo Hawks efforts.
Words:
Let it be known unto all good folk that Our good and faithful servant, Master James Galloway, has distinguished himself while serving in the kitchens at The Coronation Of Ivan and Matilde, whereby he prepped large quantities of meats and made sure platters were filled and fresh for dayboard. Dutifully he made sure the service table was fresh and plentiful. Finally, at the end of the day, he took up rag and soap and helped make sure every surface, pot, pan, and utensil was as clean as when he arrived. Because of his efforts and diligence, We, Ivan Ivanov syn Dimitriov vynuk Tzardikov and Matilde de Cadenet, Tsar and Tsaritsa of the Eastrealm, are pleased to admit him into Our Order of the Burdened Tyger. Done this twentyfourth day of March, Anno Societatis 52 at Mudthaw in Our Barony of Settmour Swamp.
I set myself up for a challenge with this one, and it ended up snoballing into a bigger challenge on me. I decided to give Lorita (the illuminator) lots of room for creativity, which ment using a my second smallest nib. I really should have done a propper nib ladder and measure it out from there. Instead I mathed it out, which gave me an effective x-height of 4 at best, so the letters are a little squat at 3.75mm high. I worked though it though and I'm happy with the result.