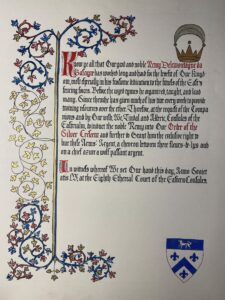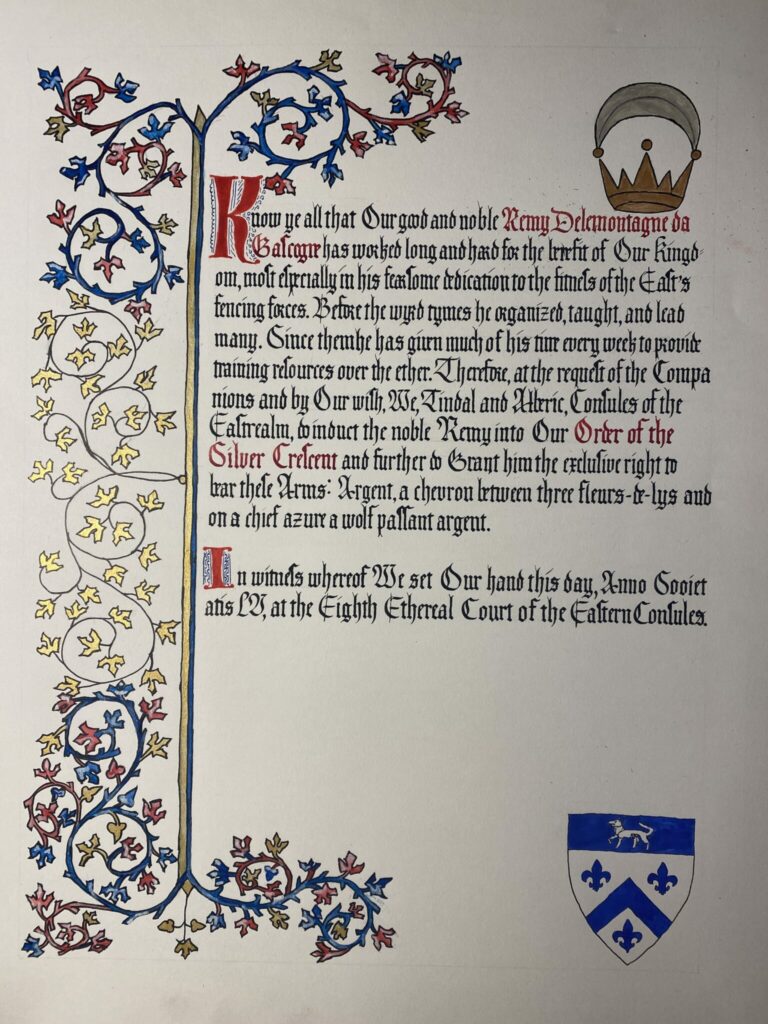 Of no fault of Remy, this was a very challenging scroll to work on. When I got the assignment, I was ready and willing to make it happen and give it my all.
Then, I have no idea what happened, but the scroll surely didn't happen. The scroll was assigned in February, due in April and here we are in August and I was finally able to finish put the finishing touches on it the week of August 9th, 2021.
I don't know what happened.
About three weeks out from the due date, my mind went blank and my drive vanished. I managed to get the calligraphy down and pencil in the capitals, Arms, and Award. After that, nothing. It took me another 4 months and two assignments before I could finish this up.
Remy, I'm truly sorry it took me so long.
Words
Know ye all that Our good and noble Remy Delemontagne da Gascogne has worked long and hard for the benefit of Our Kingdom, most especially in his fearsome dedication to the fitness of the East's fencing forces. Before the wyrd tymes, he organized, taught, and lead many. Since then he has given much of his time every week to provide training resources over the ether. Therefore, at the request of the Companions and by Our wish, We, Tindal and Alberic Consules of the Eastrealm, do induct the noble Remy into Our Order of the Silver Crescent, and further do Grant him the exclusive right to bear these Arms: Argent, a chevron between three fleurs-de-lys and on a chief azure a wolf passant argent. In witness whereof We set Our hand this day, Anno Societatis LV, at Eighth Ethereal Court of the Eastern Consules.
Materials
De Atramentis Document Black ink
Guache
Windsor & Newton Gold and Silver inks
Blank with Illumination from Woodhaven Scriptorium