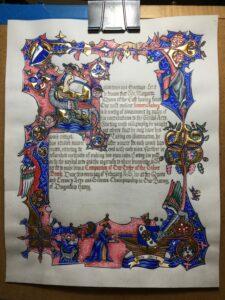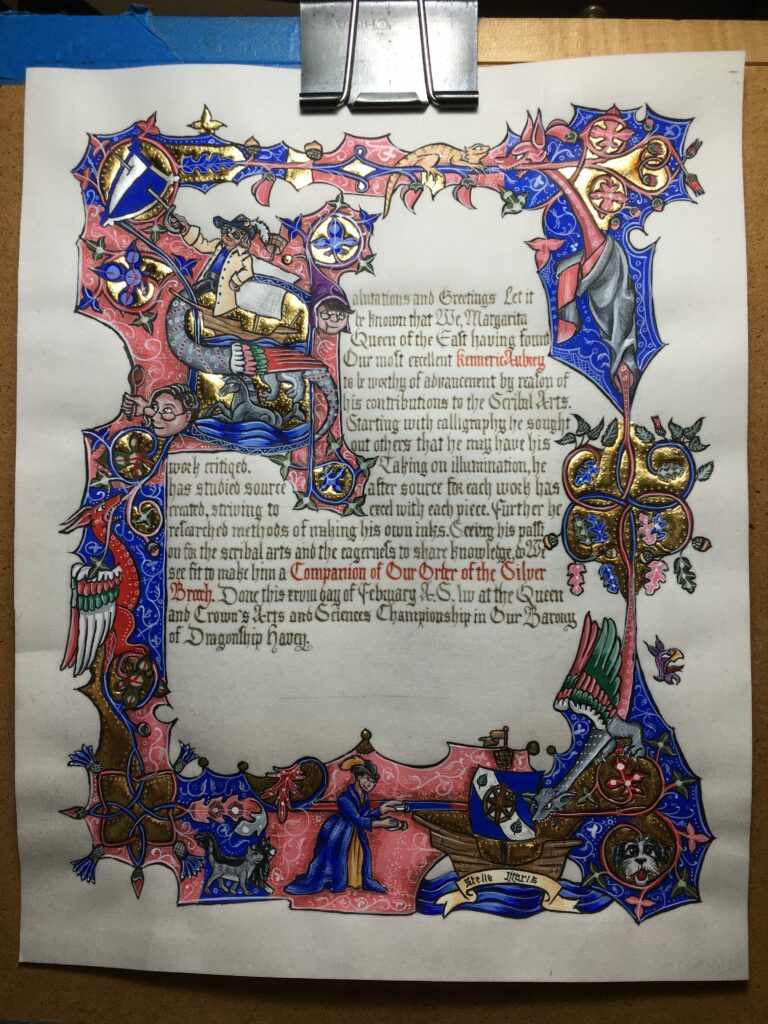 And this is how you end up with multiple assignments, knowing people. A Facebook group chat was formed and I found myself in the middle of happy exclamations that this was, in fact, going to be a thing! I"d written Kenneric in for a Silver Brooch, but it didn"t get much traction. This time, however, it did! and I was happy about it! Lisabetta had jumped on the Illumination and I took up the words and Calligraphy.
I had the pleasure of talking with Kenneric at Wars of the Roses 2019. Like me, he"s mostly a self-taught calligrapher. I was blown away when he asked me to critique his work! We had a great time going over what he"d done so far and I gave him plenty of ideas on how to take his calligraphy to the next level. Since then he"s been happy to share with me the pieces he"s done and never fails to ask for thoughts on them.
Words
Salutations and Greetings! Let it be known that We, Margarita Queen of the East having found Our most Excellent Kenneric Aubrey to be worth of advancement by reason of his contribution to the Scribal Arts. Starting with calligraphy he sought out others that he may have his work critiqued. Taking on illumination, he has studied source after source for each work he has created, striving to excel with each piece. Further he researched methods of making his own inks. Seeing his passion for the scribal arts and the eagerness to share knowledge with, do We see fit to make him a Companion of our Order of the Silver Brooch. Done this 29th day of February A.S. 54 (LIV) at the Queen & Crown"s Arts & Sciences Championship in Our Barony of Dragonship Haven
I think this is my first time actually writing on calfskin vellum for a scroll. Aside from the buckling, it was a pleasure. It handled the ink VERY well, AND cleanup was a sinch! Yes, there were a few spots I needed to scrape. Aside from the darkening of the ink, due to writing the correct letters over the wrong, you really wouldn"t know.
Materials (for my part)
Homemade iron black walnut ink
Riva"s Dragons Blood ink
Leonardt Roundhand 1/2mm nib.