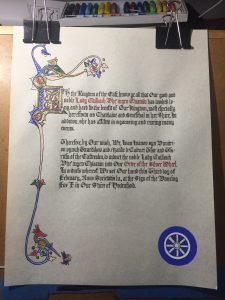 Another beautiful collaboration with Lisa Cotton!  She'd posted on the EK Scribe site in a panic, looking for a scribe to do calligraphy.  Because I'll also be going to the event it's to be delivered to, I offered to help.

The fact that the source was written in Textura Quadrata gave me confidence that I could complete it in time.  Lisa was able to complete the blank and mail it out so I recieved it Friday, right be fore we drove to Birka.  I spent some time at Birka working on the words and prepping myself for the task at hand.  Monday and Tuesday nights were spent cranking out the text, which went surprisingly quick.  Wednesday after we got back, I did a little bit of cleanup on the text and can comfortably call it good to go.
After the scroll was read off in court, I realized a mistake I'd made.  The scroll was given in the Shire of Nordenhall, the recipient is from the Shire of Nordenfjord, not the other way around.  D'oh.
Words:
In the Kingdom of the East, know ye all that Our good and noble Lady Cailleach Dhe' ingen Chiarain has worked long and hard for the benefit of Our Kingdom, most especially her efforts as Chatelaine and Seneschal in her Shire.  In addition, she has assisted in organizing and running many events.

Therefore, by Our wish, We, Ivan Ivanov syn Dimitriov vynuk Tzardikov and Matilde de Cadenet Tsar and Tsaritsa of the Eastrealm, do induct the noble Lady Cailleach Dhe' ingen Chiarain into Our Order of the Silver Wheel.  In witness whereof We set Our hand this Third day of February, Anno Societatis 52, at the Sign of the Dancing Fox X in Our Shire of Nordenfjord.
Illumination by:  Lady Lisabeth Medaglia