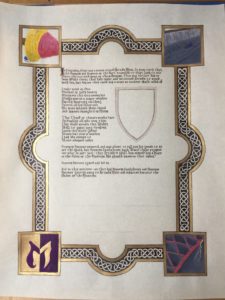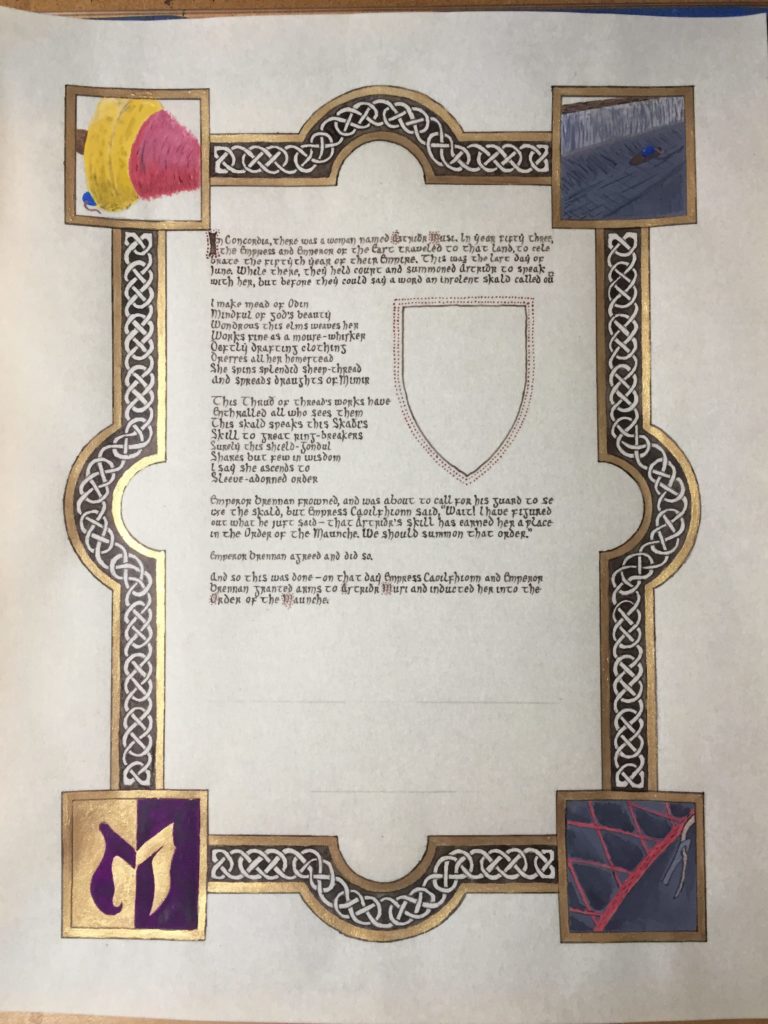 So a good friend reached out to me and asked if I'd like to do a Maunche for her Apprentice.  I think I said yes before I realized what she was asking.  Once the decision was official, the research began.  I messaged Ástríðr's husband for ideas, found out more about her persona, and it all started coming together.
Inspiration for the layout came from a 12th century Scottish manuscript By Meister der Franko-S'chsischen Gruppe.  When I started disecting the image I started to notice some fun details.  The sheer regularity, ratios, and math that went into this was just too cool.  One of my favorite details is the compass dots, where a tool was used to draw in the curves!  Obviously I couldn't use the designs in the middle, that's where the caligraphy needs to go.  The corners though, I needed to put something in the corners and have it tailered Ástríðr.  That inspiration came from her blog post regarding a riding cloak she'd recently took on.  This cloak was done from the fiber up.  She spun, wove, and embroidered all of it.
Everything was coming together wonderfully.  I wanted to make it just a little more personal though, so I asked her husband about her last name "Musi" as it sounded an aweful lot like "mousey".  He told me it was in fact a mouse reference, and that her nickname in school was "little blue mouse" because of her chosen hair color.  PERFECT, little blue mice it was to be then!
I was now ready for words!  I contacted Grimm to find out what he had planned and gave him rough limits to work with, and he nailed it.  There was just one thing I forgot to factor in, the poem.  Poems, while they can follow a word count limit, they inherently have a line count limit which means instead of taking up the width of the page, they tend to take up the length.  The 1mm nib I'd planned on using would give the royals no room to sign.  The line lengh was also just wide enough so that I couldn't turn it into two columns, so… smaller nib it was to be.  Reading glasses donned, I set my 3/4mm nib to work.
Words by Grimm the Skald:
In Concordia, there was a woman named Ástriðr Musi.  In year 53, the Empress and Emperor of the East traveled to that land, to celebrate the 50th year of their Empire.  This was the last day of June.  While there, they held court and summoned Ástriðr to speak with her, but before they could say a word an insolent skald called out:

I make mead of Odin
Mindful of gods' beauty
Wondrous this elms weaves her
Works fine as mouse-whisker
Deftly drafting clothing
Dresses all her homestead
She spins splendid sheep-thread
And spreads draughts of Mimir

This Thruð of thread's works have
Enthralled all who sees them
This skald speaks this Skaði's
Skill to great ring-breakers
Surely this shield-Gondul
Shares but few in wisdom
I say she ascends to
Sleeve-adorned order

Emperor Brennan frowned, and was about to call for his guard to seize the skald, but Empress Caoilfhionn said, "Wait!  I have figured out what he just said – that Ástriðr's skill has earned her a place in the Order of the Maunche.   We should summon that order."

Emperor Brennan agreed and did so.

And so this was done – on that day Emperess Caoilfhionn and Emperor Brennan granted arms to Ástriðr Musi and inducted  her into the Order of the Maunche.
After the words were in place I found a new problem, where to put her Arms.  I didn't want to bury them in the bottom of the page, and there was this nice space to the right of the poem.  With some ideas from my Laurel, I made it work.
Final thoughts,  I couldn't be happier with how this scroll turned out.  Sure I could nit pick on how the knotwork could be more detailed or this or that, but nope.  I'm very happy with it.  Ástríðr was as well!  I had the pleasure of seeing her face lite up when she saw it.
Materials:
Homemade black walnut ink
Vegetibal Perg.
Tape 3/4mm nib