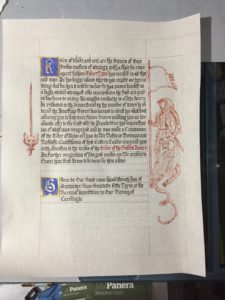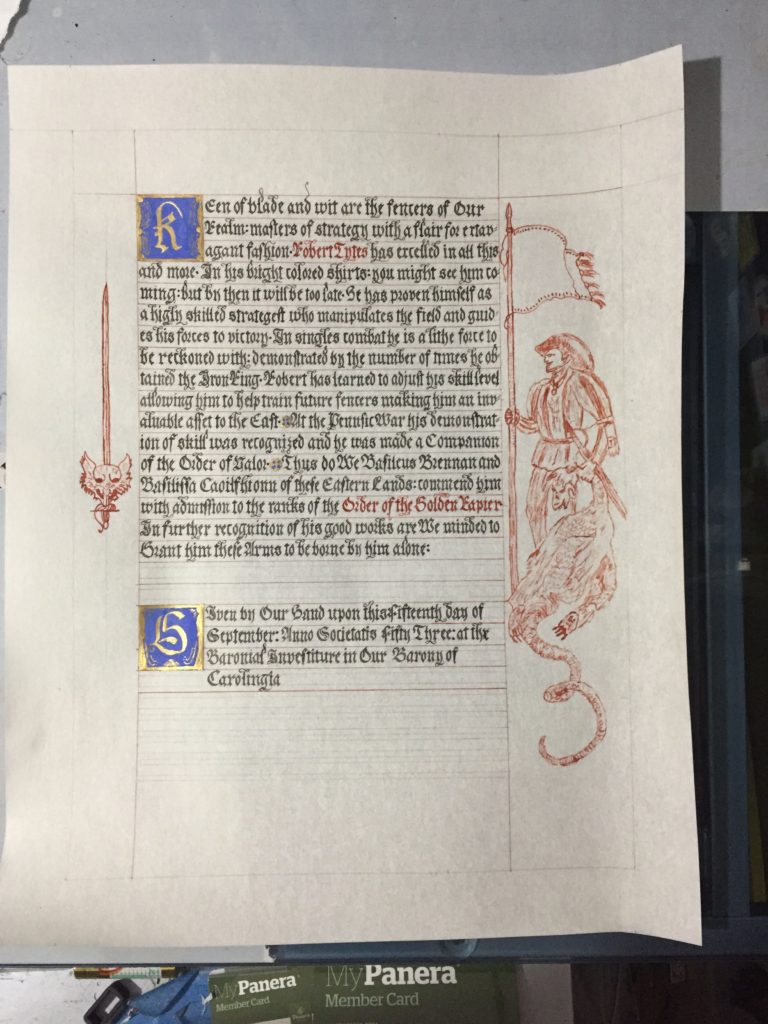 This was my first Gold level award that was actually assigned!  The other's I've done, I was requested, but the Signit didn't reach out to me initially.  So this is kind of a big deal for me.

I've been wanting to do another German style scroll for a while now.  As luck would have it, Rober's persona would work out pretty well as he's an Englishman fighting along side German Landsknechte and the page that stuck out to me was St. George from a German manuscript!
I took some liberties with the illuminated capitals as I was having a hard time trying wrap my brain around doing a K and G in the style from the manuscript and those letters weren't done as illuminated capitals.

Converting St. George to Robert Tytes was an interesting challenge.  At first I tried to use an Image of Robert holding a banner, but it was missing legs and I couldn't get them right.  In the end I traced over George turning the armor into floofy garb and attaching Robert's head and hat.  This was a much better choice and turned out quite well!
The words were a challenge.  I've watched Robert fight in solos and in groups, and he's impressive.  I got good informatiom from both Jean-Paul and Anne regarding other things he'd done and been recognized with, like the Order of Valor of the East.
Words:
Keen of blade and wit are the fencers of Our Realm, masters of strategy with a flair for extravagant fashion. Robert Tytes has excelled in all this and more.  In his bright colored shirts, you might see him coming, but by then it will be too late.  He has proven himself as a highly skilled strategist who manipulates the field and guides his forces to victory.  In singles combat, he is a lithe force to be reckoned with, demonstrated by the number of times he obtained the Iron Ring.  Robert has learned to adjust his skill level, allowing him to help train future fencers making him an invaluable asset to the East.  At the Pennsic War, his demonstration of skill was recognized and he was made a companion of the Order of Valor.  Thus, do We, Basileus Brennan and Basilissa Caoilfhionn, commend him with admission to the ranks of the Order of the Golden Rapier. In further recognition of his good works are We minded to Grant him these Arms, to be borne by him alone:

Given by Our Hand upon this Fifteenth day of September, Anno Societatis 53, at the Baronial Investiture in our Barony of Carolingia.
Materials:
White Perg
Homade black walnut ink
Dragon's Blood ink
Guache
Dr. P.H. Martins Gold ink
Additional Images: