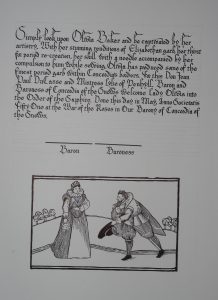 For this years War of the Roses (Go York!) I had the pleasure of working with Lady Elisabeth Greenleaf.  Elisabeth did a "woodcut" style from 16th Century England.  I chose to accompany it with Littera Bastarda (Bastard Secretary), 13th Century and onward.  Elisabeth was able to get words to me with measurements of my working area to me ahead of time, which helped greatly while I waited for the scroll itself to arrive.  I was able to get in a rough before starting on the final.

I had a lot of fun with the exaggerated capitals and the upward flourishes!  I still can't believe how nice they look.  I used two exemplars for my script, The Art of Calligraphy by David Harris, and Medieval Calligraphy: Its History and Technique by Mark Drogin.

The draft took me about 4 hours and was rushed, sloppy, and wide spaced.  I do this so I have a good idea as to the absolute minimum space I'm going to need on the final scroll.  The scroll itself took about 6 hours.  It was done with a 1mm Tape nib and DeAtramentis Document black ink.  I wanted the hairlines to really work, so I played with sharpening my nib before I got started on the final.  The only downside of this was the "f"s, the nib would catch on the paper, causing me to stop and back up slightly before completing the character.
Higher resolution images: