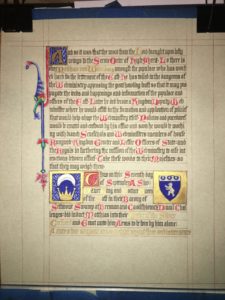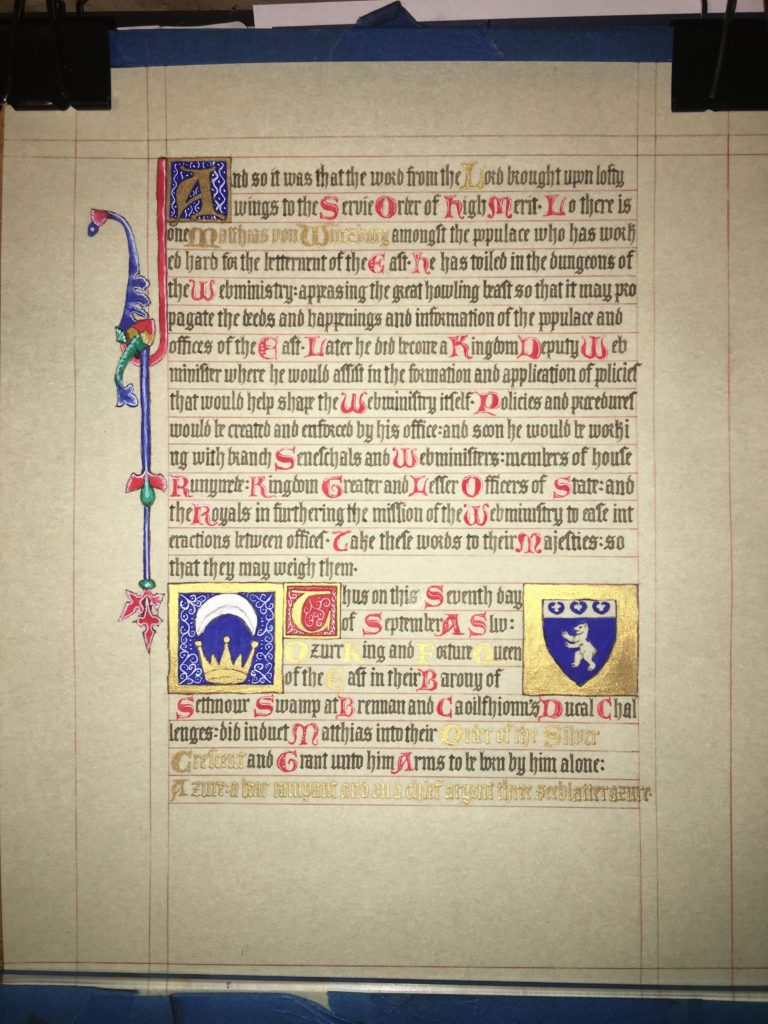 Another scroll for a member of the Webministry (sysadmins and web administrators). I was doubly surprised when I was sapped for this as not only was it for someone in the East Kindom (EK) Webministry, but it was also submitted by a good friend of mine, Joel (Lord) Messerer. Joel provided a wonderfully rich write-up that I had a wonderful time paraphrasing into a more period style.
Credit should be given to Patrick of Medieval Death Trip. It was from his readings of manuscripts that I drew inspiration for the cadence and flavor of the text.
Words:
And so it was that the word from the Lord brought upon lofty wings to the Service Order of High Merit. Lo there is one Matthias von Würzburg amongst the populace who has worked hard for the betterment of the East. He has toiled in the dungeons of the Webministry, appeasing the great howling beast so that it may propagate the deeds and happenings and information of the populace and offices of the East. Later he did become a Kingdom Deputy Webminister where he would assist in the formation and application of policies that would help shape the Webministry itself. Policies and procedures would be created and enforced by his office, and soon he would be working with branch Seneschals and Webministers, members of house Runymede, Kingdom Greater and Lesser Officers of State, and the Royals in furthering the mission of the Webministry to ease interactions between offices. Take these words to their Majesties, so that they may weigh them.

Thus on this 7th day of September A.S. 54 Ozurr King and Fortune Queen of the East in their Barony of Settmour Swamp at Brennan and Caoilfhionn"s Ducal Challenges, did induct Matthias into their Order of the Silver Crecent and Grant unto him Arms to be borne by him alone: Azure, a bear rampant and on a chief argent three seeblatter azure.
Images:
Materials:
Black Walnut Ink (homemade) & Dragons Blood Ink
Vegetable Pergamentata
Guache
1mm Leonardt Nib
Ruling pen