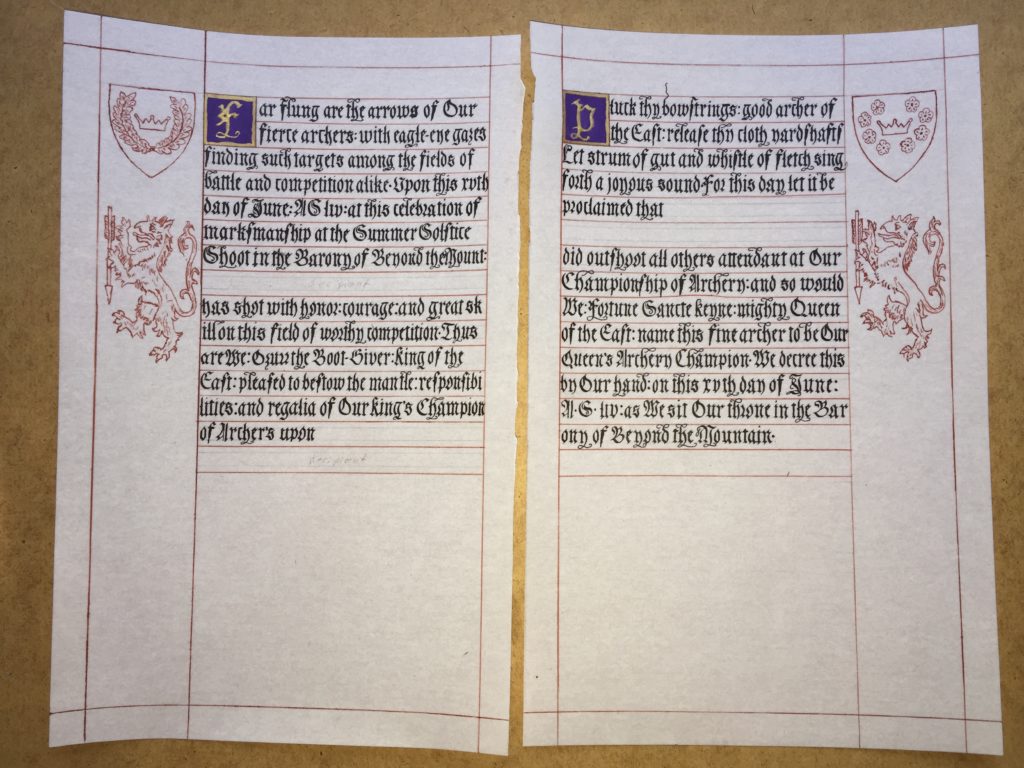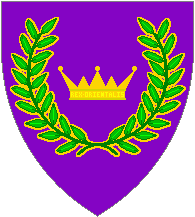 King's Archery Champion:
My first set of champions scrolls! I spent a month trying to figure out just what to do for these. I couldn't decide between this style or something with more illumination. Due to several life events happening, this style won out. Given everything that"s been going on, I"m very happy with how they turned out!
The pieces were done on a single sheet of Perg. This made doing the guidelines, calligraphy, and red lines much easier and gives them a cohesive look. The red ink art and the painting were done after the pages were split so that I didn't need quite as large of a workspace to finish each one.
I"m really happy with how the Tygers and Arms turned out! The backlite tracing board and a decent printer really helped a lot with layout and placement, as well as getting the details roughly where they belong.
King's Archery Champion:
Far flung are the arrows of Our fierce archers, with eagle-eye gazes finding such targets among the fields of battle and competition alike. Upon this 15th day of June, Anno Societatis LIV, at this celebration of marksmanship at the Summer Solstice Shoot in Barony Beyond the Mountain,
(recipient's name)
has shot with honor, courage, and great skill on this field of worthy competition. Thus are We, Ozurr the Boot-Giver, King of the East, pleased to bestow the mantle, responsibilities, and regalia of Our King's Champion of Archers upon
(recipient's name).
Queen's Archery Champion:
Pluck thy bowstrings, good archer of the East, release thy clothyard shafts. Let strum of gut and whistle of fletch sing forth a joyous sound. For this day let it be proclaimed that
(recipient's name)
did outshoot all others attendant at Our Championship of Archery, and so would We, Fortune Sancte Keyne, mighty Queen of the East, name this fine archer to be Our Queen's Archery Champion. We decree this by Our hand, on this 15th day of June, A.S. LIV, as We sit Our throne in the Barony Beyond the Mountain.
Final thoughts: I do wish I"d had better control over the ruling pen. There are two spots where the sharp edge caught the perg just right and smoothly arched away from the ruler. I also wish I"d come up with some additional flourish to help fill the whitespace around the Arms and Tygers. Maybe a few extra lines below the text, just to help fill it out a bit.
Materials:
Perg
De Atramentis Document Black ink
Dragon"s Blood ink
Dr. PH Martins Gold ink
Reeves violate (with a touch of white) Guache
Hero 1mm nib
Ruling Pen
Generic pointed nib